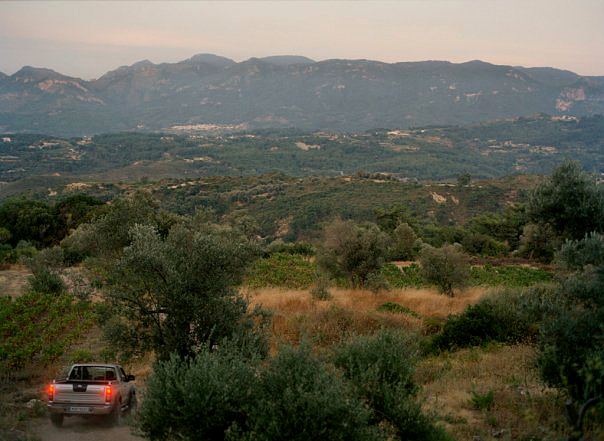 It's late. An hour or two from midnight. All day I and my colleges have been shooting in the small winding roads of the Greek island of Samos. As night fell, we gathered in a small mountain village to resume the day, plan the next, and meet up with our host Jannis.
The village, merely more than a T-junction, with a news and tobacco stand, an Ouzeria, a restaurant and a church, is settled as dusk has fallen. Children are now playing in the square in front of the church, with their mothers and grandmothers supervising them, chit-chatting, from benches scattered around the open space. Old men, with white moustaches and black fishing hats, play backgammon, chit-chatting over a beer by the tables of the
Ouzeria. The fluorescent bright cold blue light beams out from the restaurant and floods the space outside with sharp shadows. Middle aged and younger men in small groups of three, or four, come and go. They have a beer, hang by the fence, talk loudly from their cars, greet someone and move on.
We take a table by the corner of the outside space with a somewhat view of the valley below. It's me, Pether, Martin and Anna Klara, we have been working on a documentary about rootlessness and life lived from a suitcase for a while now. Visiting people and places Pether lived and loved, asking the same questions on what makes one feel at home and gives a sense of belonging. Samos was his first step abroad. And Jannis his first employer, and in a way, a chosen father figure.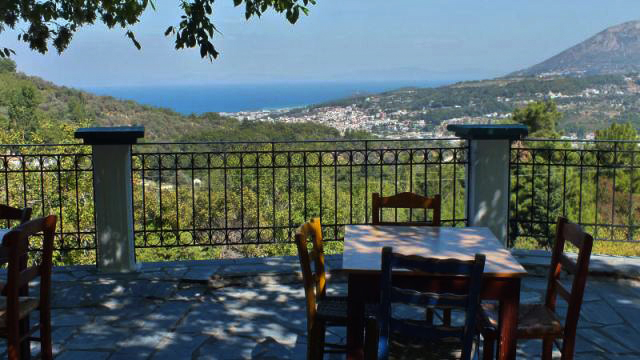 All of a sudden Jannis shows up, with lots of commotion around him, like many Greek men do. He parks loudly. Walks the streets loudly. Greets people to his right and left loudly. Approaches us, complains about our choice of table, and makes a choice of a central and much brighter table for us. As we all slightly confused start collecting our things, he asks us if we are hungry. It's late, and we as Scandinavians do, have eaten long ago before dark feel. But a small night snack sounds good, so we say yes. He orders 4 x 1 litre beers and a plate of lamb chops for us too share.
Soon enough the waiter shows up puts a plastered tablecloth on our table, brings the beer, mugs and a basket full of bread. And right after - he pours a pile of lamb chops on to the centre of the table - straight on to the plastered paper! There is plenty enough to feed a soccer team.
We look at each other puzzled waiting for Jannis to show the way. There are no plates or cutlery. Unaware of our reaction he fills our mugs with beer, grabs a lamb chop with his fingers and starts munching on it with great appetite. We smile, kind of silently recognizing that this is what Greeks would consider a midnight 'snack'. And follow his lead.
The lamb chops are barbecued to perfection! Suave tender meat falling of the bone, with a thin crispy fat layer, barely seasoned only sprinkled with oregano and salt. We squeeze lemon onto them, and lick our fingers to the bone!
As the church bell strikes midnight. Our table looks like battlefield! And our bellies hold at least 5 to 6 lamb chops and 3 mugs of beer each. In other words we are overly feed, slightly drunk and very content.
Jannis who mostly has been entertaining the dinner conversation on his own. Stands upon his feet and says it's time for bed. And as hastily as he showed up, he leaves the scene.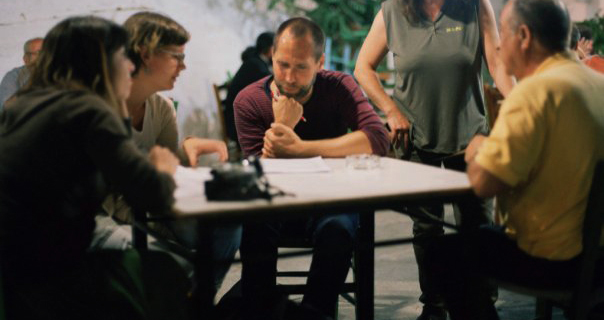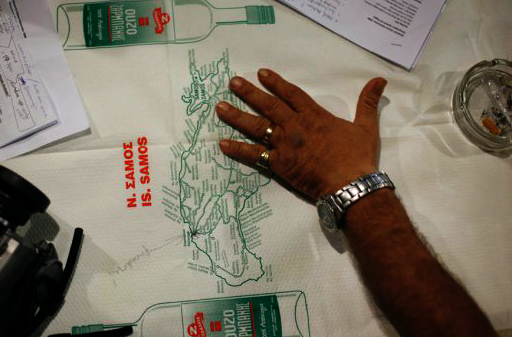 In the silence followed… we collect our thoughts and quietly discuss next days shooting.
Then we all just sit there, in the beaming fluorescent light, in silence. Wrapped in the warm breeze, surrounded by men's conversation, children play, and subtle sounds from the kitchen. Now set off to do the dishes, accompanied by rhythmic tunes of bouzouki music and a wall of crickets singing in the dark.